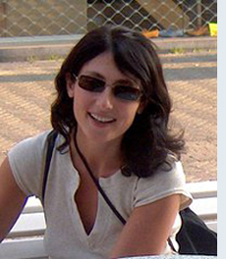 Irina Tevzadze is an artist and designer originally from the country of Georgia, currently residing in the United States.
Irina's career in fine arts and fashion spans more than twenty years. She works in different traditional and digital media and her works have been exhibited and sold worldwide. Irina's creations have been showcased in such venues as the Fabulous Fox Theatre in Atlanta and St. Louis; Tula Art Gallery in Atlanta, TMS Art Gallery and House of Cinematography in Tbilisi and in fashion shows at Sheraton Metechi Palace Hotel in Tbilisi (Georgia). Her artworks are preserved in several embassies and numerous public and private art collections in her home country, United States and internationally. Ms. Tevzadze has been a member of the jury for several fashion design competitions in the United States and abroad.
Irina has an MFA from the Tbilisi State Academy of Fine Arts in Tbilisi, Georgia where she also taught fashion and art. Apart from teaching, she has worked as a designer for Fashion House Maka Assathiany in Paris, Moscow and Tbilisi and several other high-profile European companies. In 2001, she was offered employment by Christian Lacroix Fashion House in Paris.
In 2005, after several years abroad, Ms. Tevzadze and her family returned to their native Georgia, where Irina co-founded a design, communication and research company sakartvelo.com LLC and was in charge of creative for the company's commercial communication and design projects. During this time, Irina has worked with individual and corporate clients on several branding projects, which included development and management of visual identity, image and communication strategies and design and production of various communication materials.
During the same period, Irina also designed a highly successful childrenswear collection and led the design and production of uniforms for a number of private schools. In 2006, she was awarded First Prize by the Georgian Ministry of Education and Tbilisi City Municipality for her school uniform design, which was adopted by more than 100 public schools in Georgia.
In 2009, Irina and her family returned to the United States. Currently, Irina works an assistant professor at School of Design, Stephens College in Columbia, MO, where she teaches art and fashion courses and is one of the school's ambassadors to the Council of Fashion Designers of America (CFDA) as she leads the work with students on their submissions to CFDA scholarship competitions.
Irina has always been actively contributing to the cultural life wherever she happened to reside. She has been an active supporter of Citizen Jane Film Festival. In 2010 she created a sculpture Lady Jane which since then serves as a centerpiece of the festival and has become one of its most recognized symbols.
In 2012-2013, Irina actively worked on restoration and complete interior design of Hartsburg Grand Riverstage Theatre and Restaurant in the Samuel E. Hackman historic building in Hartsburg, Missouri.
In 2011-2018, Irina participated in numerous group exhibitions at the Columbia Art League (CAL). In 2013, she received an honorary mention by the jury of the group exhibition "Beauty and the Beholder" at the CAL. In April 2013, Irina had a solo exhibition at Tellers Gallery & Bar, in Columbia, MO.
In March 2014, Irina had a solo exhibition of her artworks and selected fashion items at the Clayton Fine Arts Gallery in St. Louis, MO. Earlier that year, Irina's artwork was selected for the 37-th Annual Paper in Particular National Exhibition at Sidney Larson Gallery at Columbia College.
On 12 October 2016, Irina showed her Spring/Summer 2017 childrenswear collection at the Kansas City Fashion Week - watch a one-min film made for LJIFFF and read an article about this collection.
In February-March 2018, Irina took part in the Artist and Educator Women's Collective Show at the Montminy Gallery at the Boone County History & Culture Center.
In May 2018, Irina participated in Fashion Design Residency at the Otis College of Art and Design in Los Angeles, CA.
In Fall 2004, Ms. Tevzadze was included in Who is Who in Georgian Art catalogue and was also the subject of a documentary film "Irina".
Fragments (16 min) from the Documentary 'Irina'

Shorter version (6 min)